Spring and autumn are my favorite seasons because of all the possibilities and transitional outfits. I love the versatility of being able to pair a winter staple with summer accessories for a new look. It's mainly for this reason that I collect sneakers and now, doing the same with loafers. If you work a 9-5 or WFH, if you love minimal fashion or trendy bold statements, there's so much you can do with loafers. I'm in the market for a new pair of loafers and as always, you can trust me to do the research so you don't have to. Let's get into it. 
Color 
Although black is the most common color for loafers, I've been seeing more bold colors to match the season. Since I'd want to invest in this pair long-term, I'm looking for a neutral color. I think a soft beige or brown could be a great staple for my closet and easy to pair with bold outfit colors. The Haley Loafer from Coach is a great example of how lighter colors can bring your outfits out of the dark winter days and into breezy spring mornings. This pair also scores great from a value standpoint, making it a great buy for someone who hasn't tried the loafer look yet.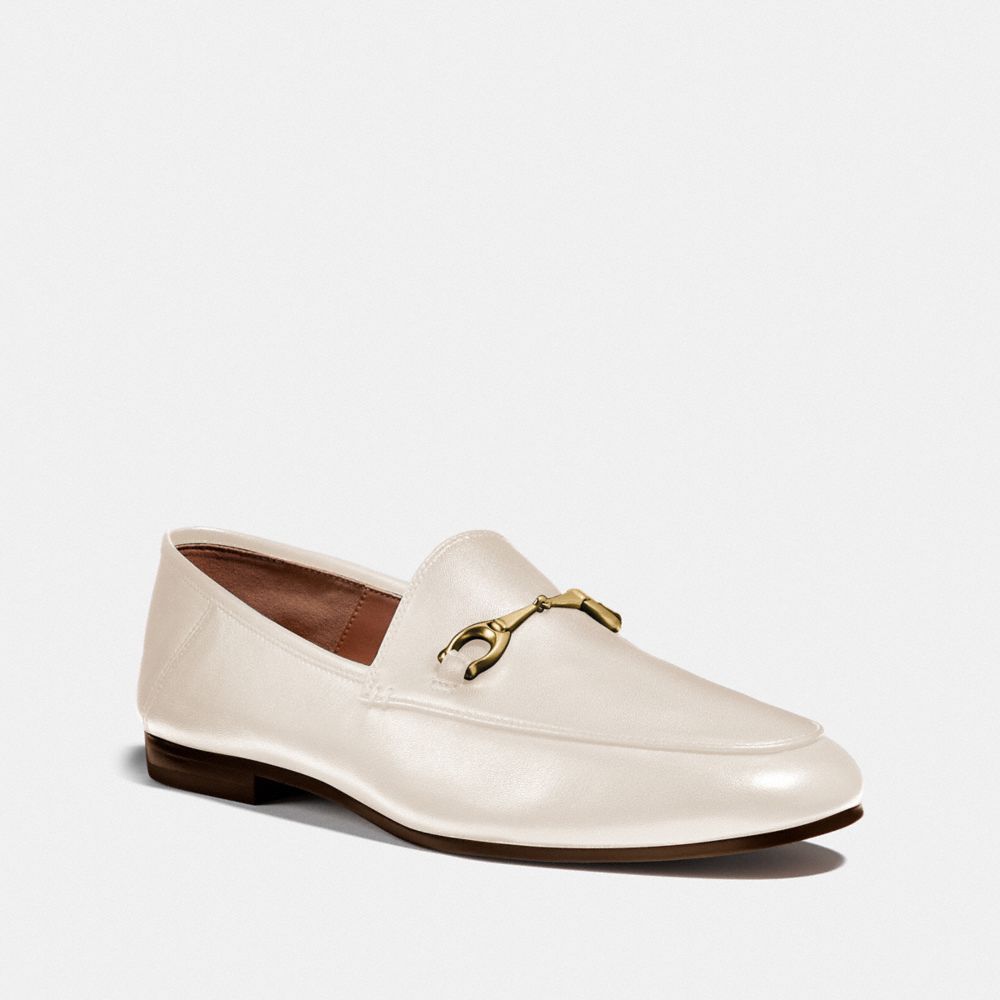 Haley Loafer from Coach
Shape 
The term loafers can mean many different things so it's important to look into the variety of shapes and styles available. For example, The Gucci Horsebit Loafer has a much chunkier look than the Gucci Double G Loafer. Both are great loafers but depending on your style, you may prefer one over the other. For me and based on my style, I love the Gucci Double G Loafer over the Gucci Horsebit Loafer. I am planning on wearing my new pair of loafers to the office or even out on the weekends so I want a style that's not going to fight to be the main star of my outfit but blend in subtly to go with my bold blazers or purses. 
Gucci Double G Loafer
Heel
We've covered the colors and shapes loafers come in but it's time we also talk about the variations available in heel heights. Loafers used to be a synonym for flats but we're seeing more brands carry loafers with heels to diversify their portfolio. A great example is the Dyvon Loafers from Call It Spring which has a 2.5" chunky heel. I personally would opt for no heel and go for flat loafers but this shoe could pair really well with a more structured outfit like skinny jeans with a buttoned-up shirt or fitted blazer. 
Dyvon Loafers from Call It Spring
If you are in the market for a pair of loafers and considering ones with some heel but aren't 100% sure, think about what you already have in your closet and how you could elevate your existing outfits. Could a heeled loafer add just the right amount of "pzazz" to your wardrobe? If you buy the heeled loafers, will you wear them or will you opt for your everyday shoes and leave these ones in the back of your closet? 
Brand
Lastly, let's talk about the brand. There are lots of loafer options in the market so deciding between a designer pair or a more affordable one can narrow down your search quickly. Choosing a brand is really based on personal preference so I'm not going to steer you in a certain direction but I will list some great options from different brands below to help you with your search. 
Well, that brings me to the end of this article and my research. Send me a DM (@blushgrove on Instagram) if you chose any of these great pairs. I'd love to see what you went with!
If you've read some of my other blogs, you already know that I'm a huge advocate for deciding on buying something based on its cost per wear, so consider that when making large purchases and choosing between different styles. 
Based on all my research and weighing of options, I've decided to go with Celine's Luco Triomphe Loafer. I absolutely love the style and kept coming back to this one after considering all the other options. I like that it makes a bold enough statement, which will elevate my existing pieces and be a great staple for my work outfits especially. 
Thanks so much for coming along this journey with me. I'm so glad we basically went shopping together.